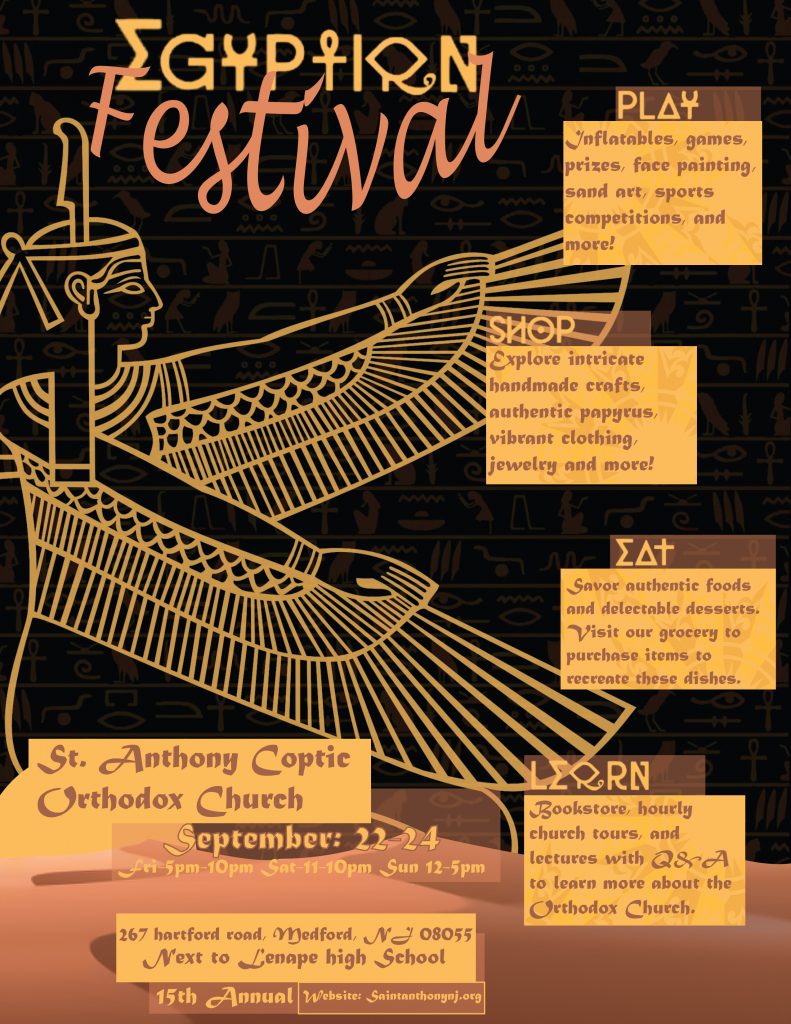 Join us at our annual Egyptian Festival! Food, fun and a great time for fellowship. This is a great opportunity to invite friends and families to learn about our Egyptian culture and food and our Church history.
With FREE ADMISSION & FREE PARKING, come and experience the many facets of the Egyptian culture; including authentic Egyptian cuisine, clothing and décor, ancient church history, and more!
~TASTE phenomenal Egyptian cuisine in Nefertiti's Kitchen! Delicious Egyptian and Middle Eastern Cuisine — stuffed Grape Leaves, Shish Kabobs, Gyros, Kofta, Falafel, Baklava, and many more foods and pastries!
~LEARN about one of the oldest apostolic churches, its ancient faith, and Christian worship. Hourly tours of the church with slideshows and Q&A segments.
~PLAY in King Tut Kids Corner: Moonbounce, dunk tank, inflatable obstacle course, Hieroglyphics name printing, face painting, Henna Tattoos, and other fun games, activities, and prizes!
~King Tut's Snack Station: Fried Oreos, cotton candy, ice cream, water ice, popcorn and more!
~SHOP from our very own Ramses Bazaar! From the bazaars of Cairo, Papyrus pictures, handicrafts, jewelry boxes, clothing, gifts, and other unique items.
~Saint Anthony's Book Store: Icons, pictures, books and religious handicrafts made in Egypt
Where:
St. Anthony Coptic Orthodox Church:
267 Hartford rd., Medford, NJ 08055.
When:
Friday Sept 29th: 5-10 PM
Saturday Sept 30th: 11 AM – 10 PM
Sunday Oct. 1st: 12 PM – 5 PM